Business & Commercial Banking Online
Business online account management
For large and small businesses we have the online banking tools and systems you need to effectively and efficiently manage your finances—from anywhere, any time.
Integrated account management for all-in-one online banking
No matter if you have one business account with us, or 20, your data and dashboard are conveniently configured to give you the highest-level view. Manage receivables, payables and card programs in an intuitive interface that makes it quick and easy.
Simple and flexible reporting
Online banking with UMB allows you to create reports that help you make your day-to-day business decisions, from searching transactions and payments, to seeing all your account detail in one place.
Accurate and secure data
Online data is updated throughout the day, with precision reporting and accurate data so you can feel confident in setting your strategy and tracking your day-to-day goals.
Image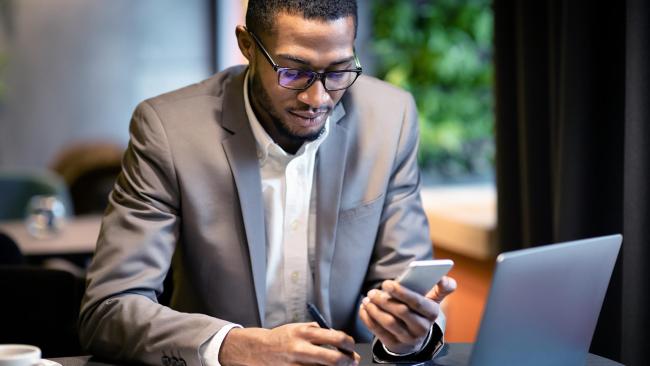 If you're ready for a seamless online banking experience for managing your large or small business finances, we're ready to help
Find the right business online banking services 
Your business online banking experience will be tailored with the features and services you need the most. Your UMB partner will help you enroll and select the right online banking platform for your business.
Business Online Banking 
For small business owners with UMB checking or savings accounts, you'll have comprehensive business banking online options that let you manage accounts, track cash flow, make payments and transfers, and view transaction history.
UMB Premier Business Online Banking 
UMB business banking online is a robust account management platform for those who need extra features to match growing needs. Enjoy user management, fund transfers and more, paired with a with reporting and history.
UMB Direct Commercial Online Banking 
UMB Direct is our full-service, pull-out-all-the-stops online tool that gives you insights into your account activity, allows you to initiate wire transfers, manage user authorizations, and add services as you grow.
Business online bank account management
Review balances and transactions, create transfers or payments, review exception activity, and manage your cash flow.
Business credit card dashboard
Manage your UMB business credit easily and efficiently with our online portal. Log in, make payments and access your transaction history.
Online investment banking
Only Available with UMB Direct

With UMB's comprehensive gateway, your company can quickly access online investment banking tools to manage your company's portfolio, securities and sweep accounts.
ACH transaction management
View and confirm ACH details, and review pending and recent ACH transactions from your account dashboard.
Manage your lockbox
Through image lockbox services, you benefit from both streamlined payment processing and efficient management in online banking.
International services
Only Available with UMB Direct

From your online banking dashboard, you can initiate and manage foreign transactions to help you do business around the world.
Wire transfers
With UMB Direct and Premier Business Online Banking, you can initiate and track your business's wire transfers quickly and easily.
Remote check deposit
Quickly and easily submit check deposits from your company's location
Integrated payables
Only Available with UMB Direct

Through Paymode-X and Visa Payables, we offer integrated payables options that help your automate payments, maximize revenue share and increase efficiency.
What to expect when you're ready to set up your online dashboard
During your business banking consultation, we'll help you select the right bank accounts and services that meet the needs of your organization.
Once your account is established, we'll walk you through how to create and manage your online dashboard.
Because we don't believe in the set-and-forget account model, we will continue to train you in all the features you need to understand.
Products offered through Investment Banking are:
NOT FDIC INSURED - MAY LOSE VALUE - NOT BANK GUARANTEED